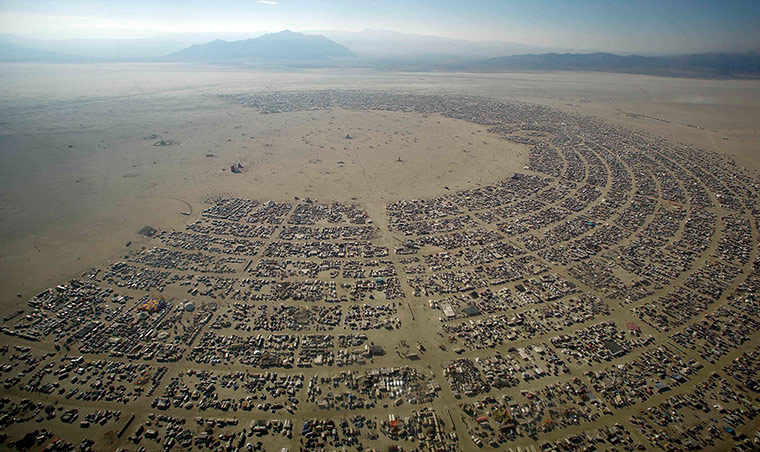 Burning Man 2012 is over and I have been indulging in other people's photos and memories that I can find out on the InterWebs. I missed 2011 as well, but today I was cleaning up and found my journal from 2010. I hadn't been able to transcribe it before now; each time I tried to, my mind sort of side-slipped away from it. Today it all held together and as I typed it up, I relived a wonderful week, a wonder full experience. The following is dedicated to my fellow citizens of Black Rock City, and to the amazing man who introduced me to so many faces of the desert.
August 30 -- On the road at 9 am, met Jim and Marina at Los Gatos Lodge and were really on the road at 9:30. Lunch was at "Al the Wop's" in Locke: grease burger and Stinky Fries. We taught Marina to eat peanut butter on her burger. Yum!
Jennifer at the Flyer's gas stop around exit 121, route 80 – no Adam's apple, name tag said Jennifer, no bra, arm's like Michaels: "You headed out to the desert?", "Yep.", "Stop in on your way back. Have a safe trip."
We arrived at Boomtown around 4:30; Jim and Marina camped in the campground; Michael and I had a hotel room instead of setting up the pop-up. We had a short nap; then, refreshed, wine and jazz at a bar in the casino. I played $1 in the poker machine at the bar, won $3.50, then lost it all. We had dinner in Denny's, back to the bar for more jazz and Jameson's. Bed, Then up by 7:30 to fill water cans, breakfast at Denny's with Jim and Marina, then on the road again by 9 am.
Arrived at the playa at 2 pm. Camp all set up 4 pm, and then nap until 6 pm. Dinner was sausages, potatoes, and chili. Michael and I went out on the playa after dinner. Found a fire sculpture – an organ played with a keyboard that shot fire out of the pipes instead of sound – orgasm!!!
Wednesday – We got up around 8, had coffee, egg and muffin. Back to bed at 9 until 11:30 or so. Then had brunch that Jim cooked: potatoes, tomatoes, artichoke hearts all fried up with salsa on top. We walked down to pick up more ice. Then Michael, Jim and I went to a lecture on the desert geology and how the playa came about. Bicycling back for Center Camp after that we picked up Pee Funnels for all four of us. Another nap until 3 or so. I was very hot and kind of stupid in a heat stress sort of way. All four of us walked over to the Safer Sex Camp for a 2 hour discussion of non-monogamy. The tent was way over-packed and hot and the lecturer was soft spoken and sort of obvious. Maybe I would have learned something had I stayed all the way to 6 pm, but I don't think so and left after about 20 minutes. I'll have to wait now and see what Michael, Jim and Marina have to say about it. Now back at our noisy camp and the techno music guys are again up on their second story platform and gracing us with their shit. Going to try to read a novel and stay out of the sun – maybe people watch a bit.
Igor and Marguerite came by and later horrible Judy and dumb Bob stayed a while. We gave out more glow sticks. Later Michael and I walked out to the Temple. People had said one's first sight should be at night and it WAS VERY POWERFUL. Maybe later I can describe the feeling. Now … just powerful!
Thursday – up at about 8, refreshed. Great sleep last night! Because the techno jerks went to bed earlier? Because of walk out to Temple? Because of knowing I had a pee funnel for the night?
We all four set out to see "the lady" on bikes but Michael got a flat tire almost out to the Man. We (he and I) walked back to fix it and will head out again soon. Marina had brought back wooden hearts to write on and I put mine and my wedding ring out at the Temple.
In Loving Memory of a Failed Marriage, 1976-2006
I forgive you for breaking my heart
I forgive you for stealing my innocence
I forgive you for wasting my time.
Cathartic tears, sobs and now an incredible feeling of lightness. I tried to think about him; can't even write the nickname! And my mind just slips away from it. Wonderful!
The Tuna Guys arrived at last and we gorged on sashimi and grilled salmon. The Google Earth satellite photo was at 11:41 am. We went out on the Big Ka-Tuna and staged a fishing trip with a fishing boat and crew on the playa. We hope the satellite caught the lovely visual with our Tuna, a sunfish art car and a minnow bicycle caught in the net.
Friday morning -- Marina is talking about staying one more day to see the Man burn but Michael and I both still plan to leave Saturday morning. Michael and I took a 1 hour morning bike ride on D road to Center Camp and then on A out to the edge of the City and the Esplanade back home. My right hand was practically numb … even with gloves.
Meatloaf sandwiches. Many tries to go buy ice but each time the line was way too long. We did fill out our census forms and drop them off.
The wind changed around to the south with LOTS of dust dancers. I'm glad we went to the playa this morning because it is, while not quite a white-out, very dusty. Hair done up in a do rag and the cool bandanas on us both. Due to the dust, we have to button up the trailer so too hot to sleep. Both of us are totally enervated from the heat – hottest day yet. Jim is making more sashimi at the Tuna Camp kitchen and brought me a piece. But I have not enough ambition to go over for more – maybe 50 feet away. The breeze helps but carries dust too. Michael had wi-fi for about 30 seconds earlier and got email from Kate, but not able to send. I can't connect at all. It will be interesting to hear the "dings" on the way home as we come into wi-fi or 3GS range.
Meanwhile, the art car parade continues. A jellyfish, a horseshoe crab, just now a double-decker something with a sail.
Once more we gave out glow sticks – hard work for one person to catch all the dark people. Michael dove in and helped. Marina is very grumpy – Jim probably did something, but no one is talking. She took off for the playa. We went to bed.
Saturday morning, Michael got up to go pee and there was a young woman asleep on our porch. At 8 when we got up again, she was gone. Very windy in the night. Shook the trailer for a while and blew in a ton of dust.
Big breakfast at Tuna Camp. We partook in between packing up. On the road home by 11:30, "off playa" by 12:30. Definitely white out conditions until we got to the highway. I think we did the right think not staying longer. Very hot already and very windy.
A long drive home – 9 hours. Really should break the trip home as well but Michael was concerned about Kate having to deal with Brooke alone all week. I wonder how Brooke's presence is going to change my life. Already Kate is telling Michael not to walk around the house nude because "Brooke can't handle it." Going to be interesting.
Glad to be home with DC today.